Apparel production used to be a massive part of the Kansas City economy. Through the 1940s, 1 in 7 US women's garments were made here. Industry-wise, it was our second largest employer.
That's the stuff of history, right? Trends like globalization and automation mean these are the jobs that now only live in our museums, not in our workforce, right?
Think again. American apparel manufacturing is making a big comeback. With rapidly changing trends, producing apparel in Kansas City allows for speed to market because of our central location, customization, reduced inventories and growth of boutique brands.
In fact, there are over 100 jobs available for tailors and alterationists in Kansas City. These roles require skills that traditional educational programs aren't teaching.
That's where Rightfully Sewn comes in.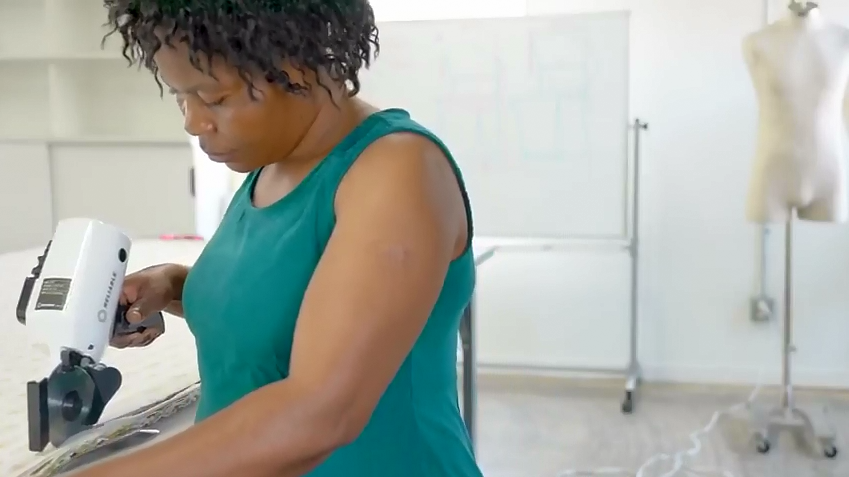 The mission-driven organization provides seamstress training for at-risk women, many of them refugees from unstable countries, giving them the specialized skills they need to land these available positions. In the process, they're bolstering the comeback of Kansas City's garment-production heritage.
With three seamstress training classes annually training ten women at a time, Rightfully Sewn is unlocking opportunities while supplying an industry ready to put that talent to work. Last year, all of the participants graduated and 83 percent  were placed in related jobs.
Trainees start on household sewing machines and move on to specialized industrial equipment, all within Rightfully Sewn's studio in the heart of the Crossroads Arts District.
Beyond financial support for its programs, EDC has a special connection to the seamstress training program. Our own Carrie Habib, Community Economic Development Assistant, serves as a mentor three mornings per week during the summer training sessions.
"To see [the trainees'] development, to see the fearlessness and the courage they bring every day, to hear the stories of where they come from and the political upheaval they've had to overcome, to come to this country as a refugee and then leap into this program and to be successful and then to be placed in a job that gives you a living wage and benefits and dignity… that is just incredibly powerful," said Habib.
Beyond the seamstress training programs, Rightfully Sewn earns revenue to support its programs by doing small batch production for local designers, with the work often done by contracting with the program's own graduates. So far, that's brought production back to Kansas City from India and Los Angeles.
Though 100 jobs are significant — especially for the at-risk women who may not otherwise have a chance to get them — Rightfully Sewn isn't stopping there. By offering a fashion designer residency, they provide entrepreneurs with connections, training, promotional support and access to their studio for work and professional meetings. This builds the industry from the ground up, putting Kansas City back on the fashion map.
Rightfully Sewn also provides programming like sewing classes and specialized workshops. You can see the full schedule at their website rightfullysewn.org.
While there, you can learn more about the second phase of their studio buildout and how you can support their capital campaign.
See Rightfully Sewn's new atelier: https://youtu.be/RPeF-lCUWcE
Learn more: