It's one of the great challenges of economic development. How does development get directed to the distressed areas that need it most, like Kansas City's East Side? Investors are reluctant to take on the additional risks that can come from projects in these areas due to aging infrastructure and perceptions of crime, and traditional incentive programs struggle to close the gap.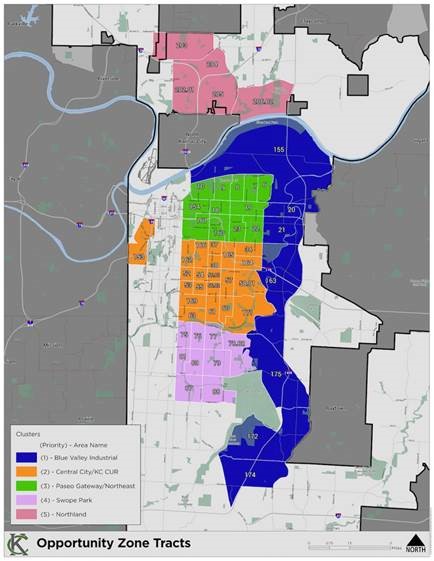 Without a solution, underserved communities continue to miss out on investment and sink further when they are on the sidelines of the economy's broader growth. That's why development professionals are always looking to find new and novel ways to address this urgent challenge and break the cycle of disinvestment.
The new Opportunity Zones program may be a promising tool to address the challenge. Implemented as part of the controversial 2017 federal tax reform package, the program is one that has received bipartisan support in Congress for its potential ability to help close the gap by creating incentives for individual investors to buy into projects in qualifying areas.
The program enhances the ability to source capital more broadly, minimizing the need for a few maverick developers to take big risks in struggling areas. Ninety percent or more of the assets in the Opportunity Funds are required to be spent in Opportunity Zones that will be focused on distressed areas of the country, designated by census tracts with high levels of unemployment and poverty.
What's in it for private investors that may have "safer" places to seek gains? The program is designed to make Opportunity Funds an attractive investment by allowing investors to defer taxes on capital gains that are invested in the Opportunity Zones. The intent is to provide an incentive for investors to push their gains into these Opportunity Zones without having to pay the tax on the capital gain and defer the tax consequences for up to 10 years.  If the funds increase while applied to Opportunity Zone projects there will be no taxes on the gains over the 10-year period.
While the federal rules are still being crafted, the City of Kansas City and the EDC are already hard at work to maximize the opportunity to impact as many areas of the city as possible by earning our share of the finite statewide Opportunity Zone designations. Areas being identified include the Blue Valley Industrial District, the central city including most of the East Side and the census tracts for most of Southwest Boulevard, Paseo Gateway, Swope Park and North Oak.
Designation as an Opportunity Zone will open the door to new investment in these areas. The transformation this can inspire, with jobs and amenities for long-neglected neighborhoods, will be exciting to watch and will hopefully encourage continued organic growth.
Stay tuned to our blog and social media channels for updates as the details of the program are finalized and the Opportunity Zones are chosen.