The City of Kansas City, Missouri-funded redevelopment of the Linwood Shopping Center achieved a milestone with the grand opening of the Lipari Brothers Sun Fresh Market Saturday, June 16, 2018. More than a grocery store, the new Sun Fresh not only alleviates a food desert in the area but is seen as pivotal to ongoing revitalization along this major East Side corridor.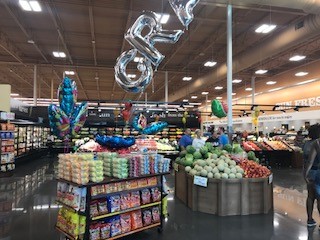 The 30-year-old shopping center, located on the west side of Prospect between 31st Street and Linwood Boulevard, also will see redevelopment on either side of the Sun Fresh, bringing 26,000 square feet of additional retail space as well as surface parking and landscaping improvements.
EDCKC redevelopment agencies are instrumental in East Side redevelopment. For this shopping center, a 2016 Tax Increment Financing Plan enabled its nearly $15 million renovation.
The agencies also are actively invested in the redevelopment of the 61,000-square-foot Linwood Square Shopping Center across the street from the new Sun Fresh, on the east side of Prospect Avenue between 30th Street and Linwood Boulevard. Discussions are underway to amend the aforementioned 2016 Tax Increment Financing Plan and extend it to serve Linwood Square. In 2017, the Land Clearance for Redevelopment Authority (LCRA) granted a ground lease for this center to the Linwood Shopping Center Redevelopment Co., LLC, operated by East Side developer, Don Maxwell.
The Linwood Shopping Center and Linwood Square Shopping Center projects join more than $2 billion in other private and public investment in the City's East Side for projects that are completed, underway or approved since 2011. These two shopping centers are creating jobs, removing blight and bringing fresh produce and contemporary retail to an under-served part of the community.