The EDC was awarded the first ever Go Global KC Outstanding Economic Development Agency Award at the Go Global KC luncheon held on June 6, 2018. The luncheon is the World Trade Center – Kansas City's annual event promoting Kansas City's active international trade economy. The U.S. Commercial Service – Kansas City also received the award. Narbeli Galindo, director of international affairs for the EDC, accepted the award on behalf of the organization.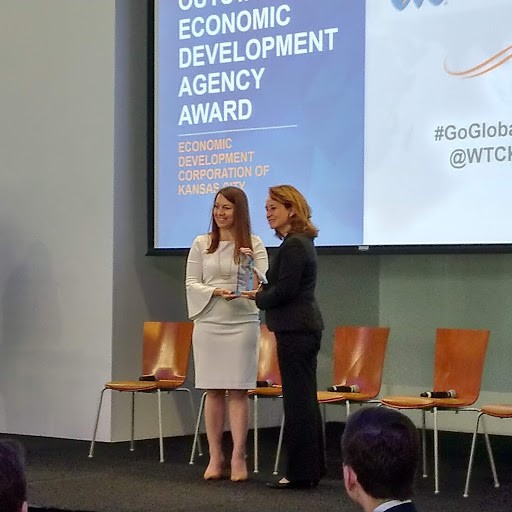 The EDC received the award for its work increasing Kansas City, Missouri's visibility as an economic development player on the international stage. The organization and Galindo have worked to educate international businesses and dignitaries on the benefits of trade in Kansas City. The work has impacted economic development by acquiring foreign direct investors, assisting local companies in expanding and increasing exports, forging trade relationships and offering liaison services for visiting government officials.
The EDC has created partnerships with local organizations that have global potential, and these partnerships have brought more than 18 new foreign direct investors (FDIs) and 111 new local jobs to the City. International resources provided by the EDC have helped companies such as Duracomm, Amaret, 1773 Innovations, DuBois Consultants, Pomerol Partners and Haarslev grow their business.
To help local businesses create the connections needed to increase exports, trade mission trips to countries such as Mexico, Canada, China, Taiwan, United Kingdom and Spain were made. More than 35 local companies have been working with the EDC to expand their bottom line though exports. Upcoming trade mission trips include visits to Israel, Ecuador, Colombia, Japan, Ireland and India.
Working with partners such as the World Trade Center, U.S. Commercial Service, KCSourceLink, Missouri Partnership and the state of Missouri, international trade and cultural relationships have been developed to grow the local economy. In 2017, trade relationships with more than 64 governmental officials around the world were established.
The EDC's international team continually represents the City at events, trade shows, presentations and conferences to cultivate international business. In 2018, the team attended the Asia Business Summit, Discover Global Markets: Design + Construct trade show, Mexico – U.S. Sister Cities Mayor's Summit, The Opportunities & Challenges of Chinese Investment in the U.S. forum and Doing Business with South Africa event, just to name a few.
Additionally, the EDC hosted the Missouri Department of Economic Development for the State Trade and Export Promotion (STEP) Program presentation. The STEP Program offers grants and marketing assistance to small business looking to expand their export activity.
The EDC and its international team is grateful for being recognized with the Go Global KC Outstanding Economic Development Agency award.  It will continue to work with organizations locally, nationally and globally to create business and trade opportunities and put Kansas City, Missouri, on the global economic development map. For more information on the EDC's international department, click here.
International economic development by the numbers:
18 new foreign direct investors
111 new local jobs
7 trade mission trips
35 local companies working to increase exports
64 relationships with global government officials